C3's Top 4 Must-Reads on The Internet of Things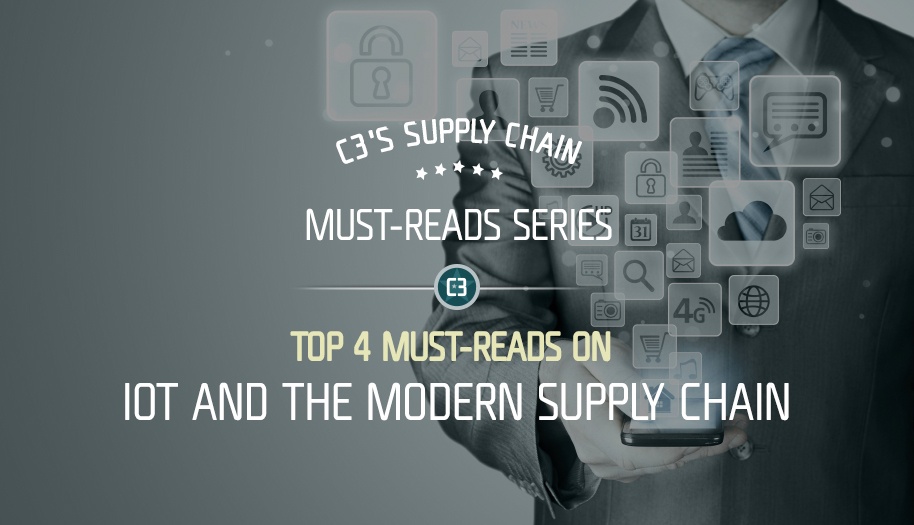 Welcome to C3 Solutions' Top Must-Reads series - Volume 1.
Throughout the years, our readership have clearly voiced their interest for educative and informative content on multiple supply chain topics. It quickly became obvious that the supply chain & logistics professional were hungry for helpful information and practical insights that could guide them in applying best practices and prepare them for future industry challenges.
Since then, C3's mission has been... just that!
This is the first of a 7 blogs series featuring C3's selection of the top must-reads on various supply chain and logistics hot topics: Cloud Supply Chain Systems, The Internet of Things, Chain of Responsibility, Becoming a Shipper of Choice, Technology Reshaping the Modern Supply Chain, Yard Management & Dock Scheduling systems and best practices.
For our Top Must-Reads Volume 1, we have gathered our most popular resources and blog posts related to The Internet of Things and its impacts on the modern supply chain.
Without further ado...
Here's C3's Top 4 Must-Reads on The Internet of Things
1 - The Internet of Things and the Modern Supply Chain - WHITE PAPER
This white paper's objective is to help industry professionals understand what is meant by the Internet of Things (IoT), identify ways it is transforming supply chain operations and provide pointers as to how it could help their organization.
Download this white paper to learn more on:
What is the Internet of Things
What IoT means for supply chain operations
The opportunities for supply chain applications
The potential pitfalls
How to ensure benefits for your enterprise
The potential of mobile devices in the IoT supply chain
2 - 4 Ways the IoT will Power your Dock Scheduling Operations
One of the primary benefits the Internet of Things (IoT) will deliver for supply chain operations is improved visibility. End-to-end visibility has long been the holy grail of supply chain managers who know that it will enable efficiencies and drive down costs.
As a recent Deloitte IoT research paper points out: "Modern supply chain management can be not only about getting products faster, cheaper, and of better quality but also about getting managers the right information at the right time, so that they can better make informed supply chain decisions."
This blog post outlines how the Internet of Things can bring value to your dock operations and scheduling process?
3 - 3 Reasons why Mobile Devices will Power the IoT
Smartphones have a number of things going for them as supply chain tools:
They are ubiquitous.
They are extremely powerful computing devices.
They are connected in multiple ways.
This article outlines supply chain applications we can expect to see for mobile devices in the world of The Internet of Things.
4 - Safeguard your Privacy and Security in the IoT World
Security and privacy are huge new concerns in the age of the Internet of Things. With objects talking to each other, transmitting information about where they are and what's happening to them, the opportunity for criminals to intercept and steal data is expanding exponentially. With the rapid evolution of the Internet of Things, every time a new application is born, there is potential for exploitation by the unscrupulous. Data security needs to be as important as the application that uses that data.
We invite you to stay in touch for the second edition of C3's Top Must-Reads on Yard Management systems and best practices.