C3's Top 4 Must-Reads: Technology and the Modern Supply Chain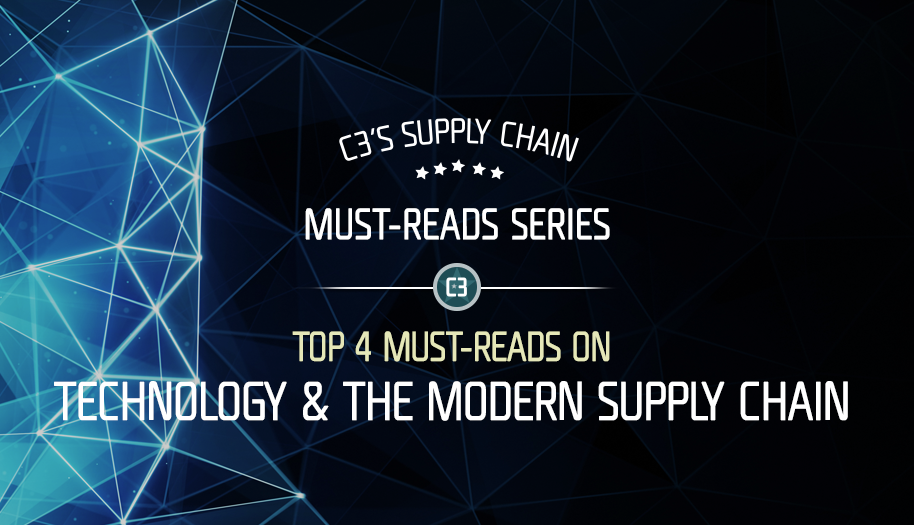 Welcome to C3 Solutions' Top Must-Reads series - Volume 7.
This is the last of a 7 blogs series featuring C3's selection of of the top must-reads on various supply chain and logistics hot topics: Cloud Supply Chain Systems, The Internet of Things, Chain of Responsibility, Becoming a Shipper of Choice, Technology Reshaping the Modern Supply Chain, Yard Management & Dock Scheduling systems and best practices.
Our last Top Must-Reads (Volume 6) covered our most popular resources and blog posts on Chain of Responsibility in the Supply Chain.
For this Top Must-Reads Volume 7, we have gathered our most popular resources and blog posts related to technology and how it is reshaping the modern supply chain.
Here's C3's Top 5 Must-Reads on Technology and the Modern Supply Chain
1 - Technology Reshaping the Modern Supply Chain - WHITE PAPER
It's no secret that tech innovations have become key to the evolution of business processes. Whether born of necessity, to fill a niche need, or developed as a blue-sky invention that business adopts, new technologies power much of the growth and development we see in supply chain operations.
This paper explores the influence of rapidly evolving technologies that have recently come a long way and will continue to transform the supply chain in the years to come.
2 - Supply Chain Fast Moving Technology: The Cost of Inaction
Knowing when it's time to invest in new technology for your business is sometimes easy—a system fails, or you have a new line of business that requires a change.
But other opportunities for a tech upgrade may be lost if you are not specifically looking for ways to improve operations. When business is ticking along, issues getting managed and deliverables being met on time, why look any further?

This article outlines several reasons why you should always be on the lookout for ways to improve operations through better technology. There can be a significant opportunity cost in failing to make smart tech investments.
3 - Big Data - Befriending the Supply Chain Hitman
Big Data. The term conjures up some kind of scary hitman who's ready to take you down. "Watch your back, or Mister Big Data will get you!"
It's a warning many supply chain execs have taken to heart. The amazing quantity of information now available to inform and improve operations has truly gained their attention.
Read this article to know more about big data: where it comes from, various applications for the supply chain and why you should care.
4 - BYOD - Putting Mobile Devices to Work
What do at least 70 percent of your workers likely bring with them every day when they report to work? Here's a hint: if they're millennials, it's more like 85 percent.
You know it: The correct answer is their smartphone.
The penetration of smartphone usage is no surprise. But making use of the attachment (or addiction, as some in older generations see it) that so many feel for their device is not yet commonplace for supply chain employers.
This article outlines the benefits, drawbacks and supply chain applications of the phenomenon known as BYOD (Bring Your Own Device).