Top 10 Supply Chain Tips to Becoming a #COVID-Friendly Business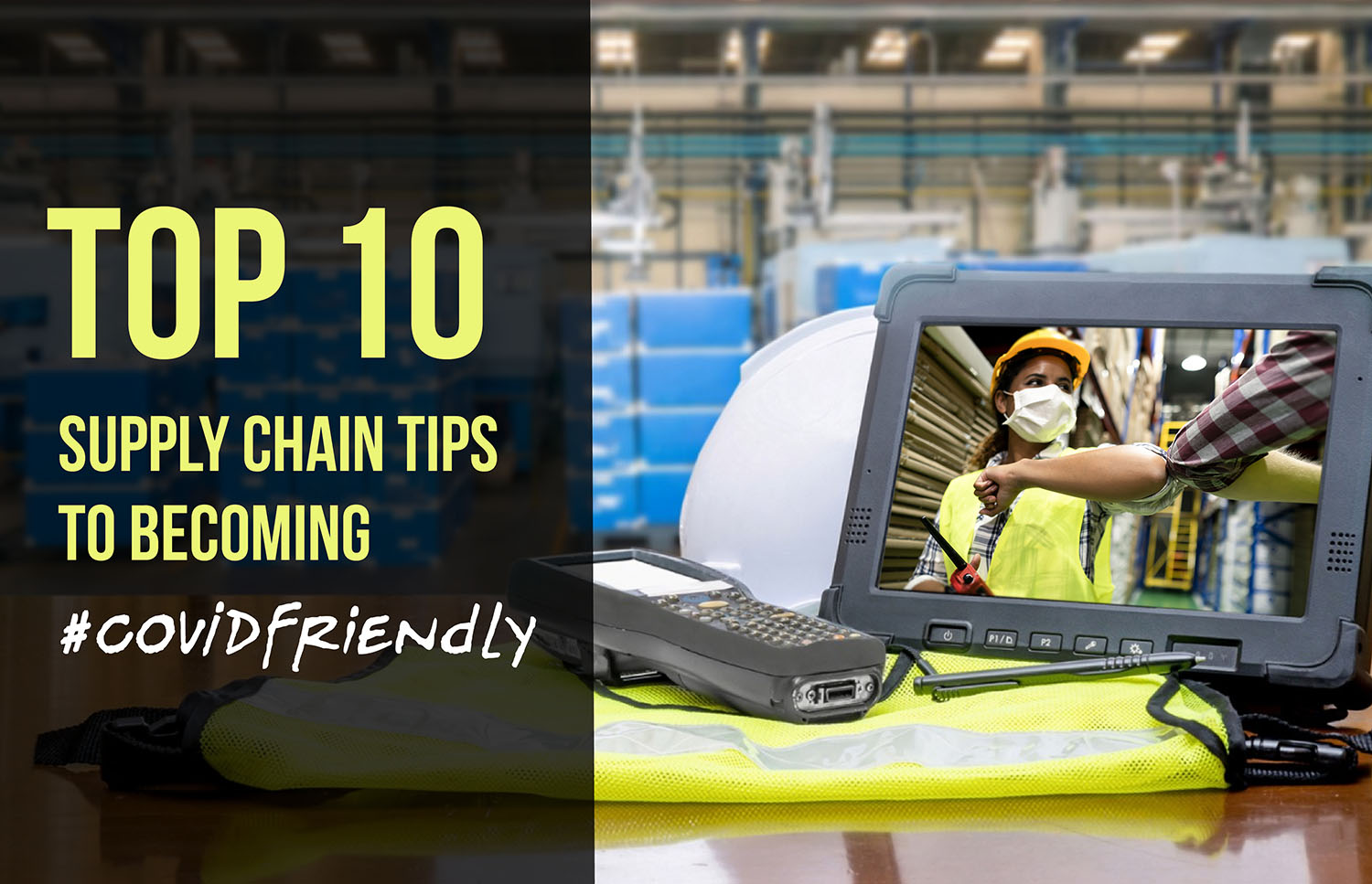 Table of Contents
---
As many businesses across the world are continually working on safeguarding their customers and employees, the need for a safe and secure supply-chain is more important now than ever before. The requirement for companies to provide a comprehensive and robust COVID-19 Policy to customers is fast becoming the norm.

Where do you start you may ask?

Having recently spoken to some senior leaders and operational experts in Logistics-Supply Chain, here are C3's Top 10 Tips to becoming #COVIDFriendly.
1. Don't Miss a Heartbeat
The monumental shift which has taken place during the pandemic has clearly been the transition from office to home-working. Whilst most of the people I speak with in the industry with who work from home have seen the benefits of removing commutes and having more family time, WFH has not been without its challenges for businesses. Those companies who have maintained the least amount of disruption to their operational processes and therefore their customers, are those who invested in leading technology. Moreover, the benefits of Cloud based systems over hosted solutions have allowed small and big businesses alike to maintain their service levels, as well as maintaining visibility of their frontline operation, all from the comfort of their home office.
Justin Pegg, COO of the UK's biggest parcel company - DPD, recalled that his team did not miss a heartbeat in their complex, multi site operations, as C3 Yard, their cloud based YMS, allowed managers and experts to view their entire network of central distribution sites, as well as all trailer activity from home - "the fact that DPD has always invested heavily in the best technology, has allowed our management and operational teams to maintain incredibly high service standards without the need to be on site".
Frontline workers in almost all supply-chain businesses are still required to be on site, on the roads and delivering to customers, but the support functions and monitoring can now be done from home, which from a Health & Safety aspect will limit contagion, thus helping the entire workforce.
2. Go Paperless
The pursuit of being a sustainable, carbon neutral business is nothing new. Reducing paper-use or removing it completely, is very much at the forefront of business leaders' minds to stop the spread of COVID-19.
There may be some skepticism about the validity of claims that the virus can spread via paper, however it is important to remember that the greater risk exists when individuals pass pieces of paper to each other. Take a security gatehouse at a retail or grocery operation; for those businesses that do not have an integrated, paperless system - paperwork in almost every case, will be passed between the driver and the gate guard on entry and exit. If you're looking for ways to keep social distancing paramount, then go paperless.
3. Go Contactless
Removing paper can also present the opportunity for a business to speed up the gate in process by going contactless. An automated gatehouse can allow for drivers to check in with a QR code on their personal device, which will again remove the need to have face to face interaction, safeguarding the safety of the drivers entering the facility. The added benefit of contactless site access and egress is that it can remove the need for gateguards to be present in the gatehouse or goods-in area, allowing these valuable team members to be redeployed elsewhere in the operation.
BYOD is also something that businesses will be promoting with a renewed vigour, as sharing any devices, work-stations et al will become another thing of the past in the world of the new normal. Going contactless has proved popular for some time with many forward-thinking supply chain companies, and the pandemic has proved to be the catalyst for the industry to adopt new health and safety protocols with a fresh urgency, don't be left behind!
4. Protect Your Assets
The COVID-19 pandemic has already caused an substantially negative impact on the global economy, with many of the G20 countries experiencing the worst quarter two results in living memory. One positive to take form this period however is the supply-chain industry, which apart from a few exceptions, has stayed buoyant throughout.
DPD COO Justin Pegg told me only last week that the business has seen increases in parcel volume of 50%, and his driver team has delivered to a staggering 750,000 new addresses. Transport and haulage companies that rent or sell vehicles have been overwhelmed with demand, causing many big companies to over-purchase or over-hire. With demand rife for more capacity, companies need a sound asset management software.
Using the C3 Yard Fulfillment tool, the operation will always know what assets are available, and how many over or under they are against the collection and outbound schedules. Even after the pandemic is a distant memory, there may be a higher demand for buying or hiring spare trailers as businesses look to protect themselves from disruption like this in the future. Striking a balance between maintaining customer promises and spending too much money on unnecessary vehicles, is almost impossible without a good system.
As a wise person once said: 'Fail to plan, plan to fail!'

5. It's Great to Integrate
In my experience, repetitive data entry not only takes up lots of time, but is also dull and fraught with clerical errors.
Whether Single Sign-On is something that will help save time and keep your credentials secure, or using Web Services API's to allow your systems to seamlessly communicate with each other, there are huge advantages to increasing integration.
If software such as a WMS can send and retrieve data to and from your dock scheduler, then your front-line staff can spend more time in the warehouse and less time in an office, especially important now that strict social distancing is a must.
6. Nail Down Your COVID-19 Policy
At the beginning of this article I mentioned the new requirement for businesses to have their own COVID-19 policy. The demand from employees, customers and partners has increased throughout the pandemic as safety and reassurance have become prerequisites for everyone. Here are some topics which I and other industry professionals believe should be considered when making your policy.
COVID policy and H&S policy are the same thing - protecting your employees from the pandemic is no different from the need to protect them from unsafe circumstances or practices. A company who builds key H&S principles into their policy will be seen to embrace the seriousness of the situation, and will also protect their business from disruption.
PPE is key - ensure your stocks of face masks and sanitation equipment are always at healthy levels, you cannot control the virus but you can create and sustain impeccably clean and safe warehouses and office spaces with the right sanitation regime. Just like safety boots and high visibility clothing, PPE to stop COVID-19 infection is just as necessary. Vehicle sanitation is also of the utmost importance, companies such as www.thegoodair.co.uk have an amazing automated cleaning system for trucks, trailers and vans that can ensure your assets are sanitised and safe.
Form a Committee - companies who have performed better thus far during the pandemic are those who own their issues, particularly something as ever changing as this pandemic. Nominate key business leaders from all departments and ensure everyone is using the agreed methodology and communicating it to the entire workforce.
Be transparent and open - honesty is always the best policy when it comes to health and safety and the pandemic is no different. If your business suffers a case on site, don't sit on the sidelines - deal with it. A small issue will always have the potential to be catastrophic if ignored.

7. Keep Your Supply Hyperlocal
Companies with local supply chains have out performed those with far flung manufacturers/suppliers. As regional or national lock-downs' changed, so did the ability to access goods and cross border transport. Hyperlocal fulfillment will ensure you can gain access to the stock, keep your business running and ensure your customers don't go elsewhere for their weekly grocery trip.

8. Be (or Become) a 'Shipper of Choice'
Word quickly gets around among driver communities, and a poorly-ran site with no COVID policy will stand out like a sore thumb.
On the flip-side, get it right and your business will be a great example of how safety and cleanliness can be as important as throughput and tip times. Many highway drivers will visit multiple sites throughout their working week and those that don't meet the mark may not only get a bad reputation but risk getting a visit from the authorities.
Become a 'Shipper of Choice' and wear your COVID credentials with pride!
9. Motivate Your Workforce
Absenteeism has caused major issues for almost all sectors in most countries around the world during these unprecedented times. Illness, self isolation or the need to shield has caused some supply chain firms to experience over 25% absenteeism on given weeks, something which has huge ramifications to your ability to operate and meet customer demand.
The best way to keep the teams happy is to acknowledge their effort in being a key frontline worker, but not just through recognition but also in actions. DPD have been giving their frontline cleaners, drivers and warehouse staff a weekly bonus since the outset of the pandemic, as well as weekly gifts, relevant to the pressures the pandemic has caused. A motivated staff member who believes in their employer is always more likely to attend an be productive; after all they are the most important asset of any organisation.
10. Be Consistent
The last point and equally one of the most important, is to ensure you do what you say you're going to do, and lead by example with your COVID rules.
There is nothing more frustrating for a driver or a warehouse worker, to see upper management shaking hands with each other when they have been maintaining social distancing for 8-10 hours a day for the last few months.
Justin Pegg, who leads all operational areas within DPD made sure he has travelled the country to see his frontline teams, from a distance & with suitable PPE, thanking them for their huge effort. Leaders who understand that the COVID policy is not just a set of do's and don'ts but also a way of behaving and a way of thinking.
Don't just walk the walk, talk the talk!