Out-of-Stocks: Why do they Matter?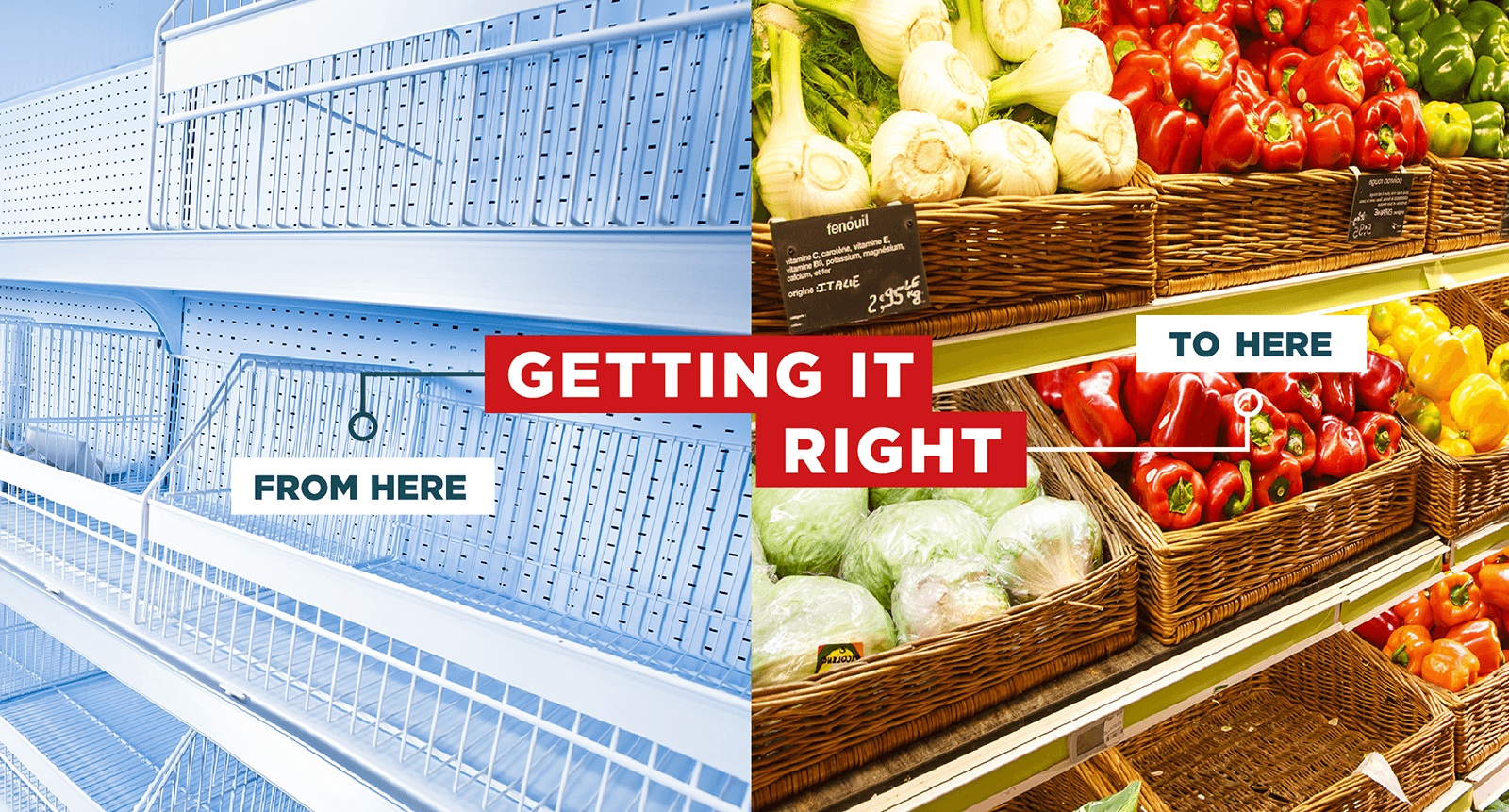 If you are in the business of selling physical products to customers, not being able to fulfill demand means your business is failing. It's a stark reality and one that is particularly frightening in today's omnichannel e-commerce environment. Part 1 and Part 2 of this series discussed the successful rise of omnichannel shopping in food and grocery - now see how it can affect the success of your brick and mortar.
For companies in the grocery and food sectors, an out-of-stock (OOS) situation means customers will go elsewhere to shop; and 'elsewhere' means the competition gets the sale. With the thin margins that grocery operates on, every customer counts. It's hard to quantify the annoyance customers feel when their regular grocer fails to provide items they normally buy every week, but it frequently means they will leave to shop elsewhere. [1]
And when they are shopping online it's even easier for the consumer to jump ship. A couple of clicks and they've moved on to the next website or mobile app, placing the order with the competitor who has the items the customer wanted.
If any of this sounds like an issue your business is facing, read on to learn some of the real-world effects of out-of-stocks for grocers and some of the ways you can reduce risk and keep those shelves full.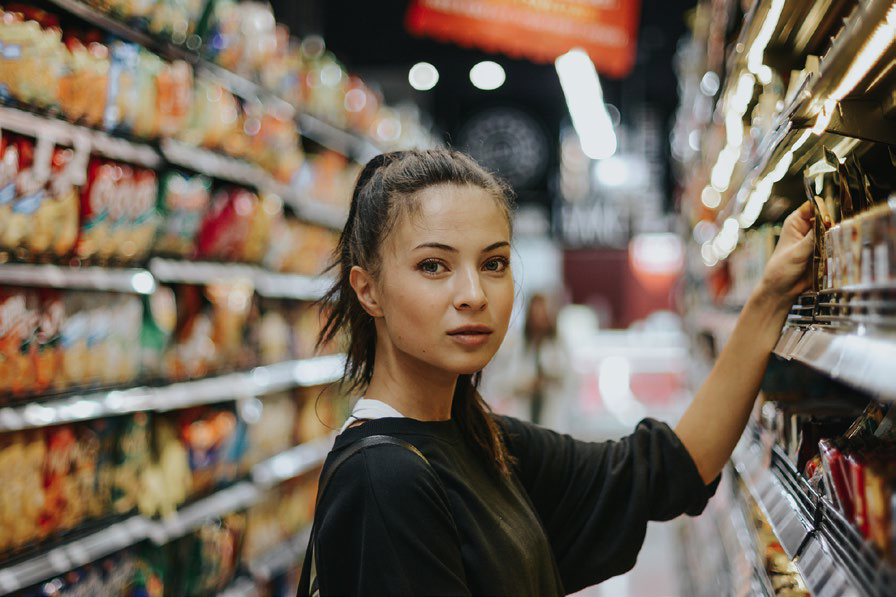 Why You Should be Afraid
Shoppers place product availability in their top three factors for deciding where to shop. [2] But with the consumer goods out-of-stock rate now averaging around eight percent, and promotional out-of-stocks at closer to 10 percent [3] retailers are not hitting this target very well.
And when a customer can't find what they're looking for stores typically get three chances – the first time the customer will pick a substitute product, the second time they are equally likely to pick a substitute, make no purchase, or go to another store, and the third time it happens 70 percent of shoppers will buy the item elsewhere. [4]
A 2012 study showed that these OOS situations can cost a supermarket five percent in sales. [5]
Add e-commerce into the mix, and suddenly you are dealing with a new layer of consumer expectation and complexity. Expectations are being driven by Amazon (and its Whole Foods subsidiary), which is setting an impossibly high bar of convenience for consumers, with same–day deliveries for urban customers becoming the benchmark. Complexity is compounded by omnichannel solutions that mix inventories from store shelves and fulfillment centers. This makes it increasingly challenging to know whether an item shown as in stock to an online customer will actually be on the shelf when a picker comes through the store to fill a click-and-collect order.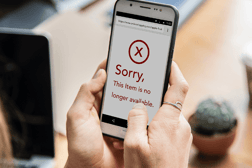 Shopping cart abandonment is a statistic online retailers watch carefully. According to first quarter 2018 data, almost 76 percent of online retail carts are abandoned by shoppers before checkout. [6] And almost a third (31 percent) of carts are left behind because the item sought is unavailable. [7]
For online-only stores, the OOS rate is 15 percent, and out-of-stocks have an estimated annual cost to the consumer goods industry of about US$22 billion. [8]
Doing it Wrong
Canada's largest supermarket chain, Loblaw, learned the hard way what happens when out-of-stocks get out of control. In 2006 the grocer had a serious customer service problem: their store shelves were empty. Would-be shoppers could wander the aisles and find shelf after shelf labeled with a yellow no-inventory tag.
It was as though the company's supply chain had simply stopped. Loblaw lost customers, sales and profits. Suppliers were not being paid, and order-management was in disarray. One supplier reported waiting three or four months to deliver an order because a warehouse was so backed up, while at the same time store shelves sat empty. [9]
This mess cost the company tens of millions of dollars and set it back at least a year. Stock prices jettisoned 18 percent in a matter of 12 months. [10] As a result, both the president and the chair of the board stepped down. [11]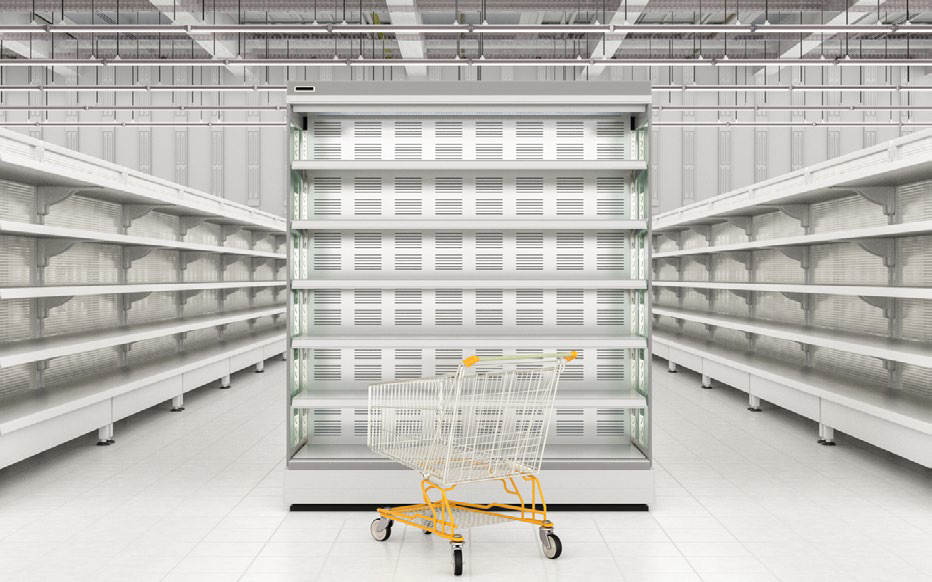 Avoiding Grocery Gore
While the Loblaw case was severe, the company has since recovered and dramatically improved its supply chain operations as well as restoring its brand image as a retailer that shoppers rely on. Part of the reason for its success has been the careful implementation of numerous information technology tools that manage inventory and improve visibility, as well as controlling the transportation link of the supply chain.
According to the FMI/GMA Trading Alliance, five root causes are to blame for out-of-stocks, ranging from poor in-store execution, ordering and fulfillment, forecasting, manufacturing and category management and merchandising. [12] For Loblaw, fragmentation of the network, legacy systems that didn't talk to one another, and warehousing that was focused on storage rather than flow were all swapped out for systems that are integrated and communicate to eliminate data silos and provide visibility into inventory location. [13]
Many grocers are pursuing similar strategies today in order to manage their omnichannel operations in response to the Amazon effect.
Simply put, retailers need to have product available where and when customers want it. And that means using tools to predict demand, manage order flow and ensure that inventory is in place in stores and in fulfillment centers when it's needed.
The Horror of Empty Shelves
For this article we are going to look at the rise of an old technique–vendor-managed inventory – that is gaining new life in the omnichannel space as "order-to-shelf". [14] Modeled on the famed Toyota Production System (TPS) and also known as Just-in-Time in the manufacturing world, retailers are using it to manage faster turns and omnichannel demand by bypassing the distribution center and having suppliers deliver smaller quantities right to the retail location.
The objective is for the retailer to pass on costs of handling and storing product to the supplier, all the while keeping shelves stocked. But it doesn't always work as planned. Notably, even Amazon's Whole Foods experienced out-of-stocks across its network shortly after implementing an order-to-shelf system. [15]

Handing off inventory control to a supplier is inherently risky for the retailer, with stock-outs being the primary ill effect. However, suppliers also run the risk of reputational damage when retailers are short of their brand name products. Both parties have a lot at stake in getting it right.
So how do grocers and their suppliers make this work? To properly execute order-to-shelf strategies, communication and transparency between the retailer and supplier are critical. Deliveries are now being made at a store level, in smaller quantities, and with greater frequency. The data that is shared between the partners must be transmitted cleanly, clearly and in a timely fashion.
REFERENCES:
[1] "Inventory Management: Out of Time for Out-of-Stocks", Natalie Taylor, Winsight Grocery Business, July 9, 2018.
[2] Solving the out-of-stock problem, FMI/GMA Trading Alliance, 2015.
[3] "Food Industry Taskforce Identifies Specific Action to Improve On-Shelf Availability", Food Marketing Institute, February 20, 2015.
[4] Solving the out-of-stock problem, FMI/GMA Trading Alliance, 2015.
[5] Getting Availability Right – Bringing out-of-stocks under control, Oliver Wyman, 2012.
[6] "Online shopping cart abandonment rate in selected industries as of 1st quarter 2018", Statista, May 2018.
[7] "Online retailers have an inventory problem", Daniel B. Kline, The Motley Fool, July 27, 2018.
[8] "Online retailers have an inventory problem", Daniel B. Kline, The Motley Fool, July 27, 2018.
[9] "Loblaw's supply chain reaction", Marina Strauss, Report on Business, February 25, 2006.
[10] "Loblaw's supply chain reaction", Marina Strauss, Report on Business, February 25, 2006.
[11] Loblaw Canada System Design Case Study, Ryan McWhorter, Isabelle Cantin, March 1, 2017.
[12] Best practices solutions to address on shelf availability, FMI/GMA Trading Partner Alliance Report, 2016.
[13] Helping Loblaw achieve high performance through supply chain transformation, Accenture, 2013.
[14] "Why more retailers are using and order-to-shelf system to manage inventory", Gloria Dawson, Supermarket News, January 23, 2018.
[15] "Why more retailers are using and order-to-shelf system to manage inventory", Gloria Dawson, Supermarket News, January 23, 2018.