The Lean Supply Chain Meets Dock Scheduling - Part II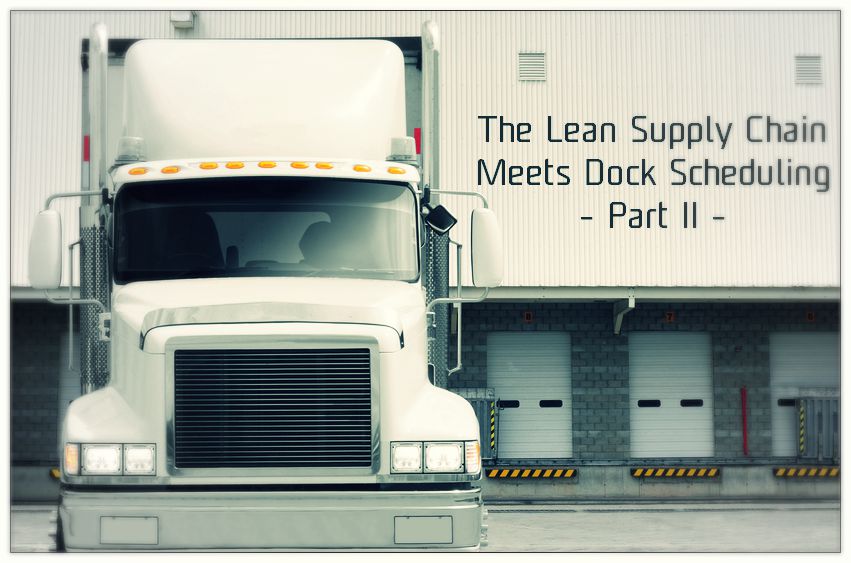 As a second blog post in a two part series, we are providing practical examples of how dock scheduling systems can improve existingprocesses due to its collaborative and automated features.As summarized in part I of this two blog series,, The author of The Lean Supply Chain, Paul A. Myerson, points out 7 key benefits of implementing automated systems after having conducted process reviews with Lean techniques.
Added competitive advantage

Increased visibility

Increased efficiency

Better customer relationships

Improved responsiveness

Better decision making

Optimization of supply chain operations
The first three benefits were covered in the first blog. Here are the remaining practical examples on how a dock scheduling system can boost the efficiency of the dock operations.
Better customer relationship
We've occasionally receive inquiries from operations managers, typically in manufacturing or 3PL environments, who admit they need to get their docks organized because their customers are complaining about driver wait times and slow turnarounds. Their scheduling process is either inexistent or totally improvised - far from being Lean. In their case, implementing a dock scheduling software like C3 Reservations forces them to change their business processes and implement 'best practices' - definitely a cornerstone in building better customer relationships.
In another example, we've seen where the scheduling system has improved the relationships between a well organized retailer and the supply chain partners. They already had in place a ''Carrier Captain'' program (i.e., dedicated associates who are responsible for meeting with carriers on a regular basis and talk about issues (routing, appointments, customer satisfaction, etc.). Once they implemented the dock scheduling system, they added valuable information to their regular meetings by generating reports regarding on-time performance, cleanliness and load faults, and turnaround times. This eliminated all the arguments based on conjecture from drivers and dock workers. And yes, adopting a customer attitude with your vendors and carriers is a good business practice.
Improved responsiveness
The automation features of C3 Reservations provides us with many examples of improved responsiveness. It is first important to understand that an appointment lifecycle (i.e., workflow) goes through multiple events (i.e., states) such as ''approved'', ''arrived'', ''at door'', ''finish loading'', ''depart''. In fact, these are completely configurable to the customer's needs. In one customer example, the process required the forklift driver to advise the office clerk when the truck is finished loading/unloading so that they can alert the driver to depart (driver is probably in the waiting area). Depending on the forklift driver's eagerness to communicate this information, a substantial delay could occur. Now, with integration between the RF scanner used by the forklift driver and the dock scheduling system, the finish load/unload time is updated in real-time and the office clerk is alerted of the new status; empowered to immediately advise the driver to clear the dock.
In other instances, the ''depart'' state automatically sends an email from the supplier advising the customer that the load has left the building - immediately and effortlessly. Improved responsiveness can also extend to fault reporting. For example, a carrier who arrives on site with the wrong type of trailer or has a trailer cleanliness issue can be immediately entered in the system, reported on and trigger an email notification to the carrier and other relevant parties. Basically every aspect of your existing process, however efficient it is, will have an improved responsiveness due to a collaborative and automated system.
Better decision making
My favorite phrase from a logistics manager is: ''I don't know what I don't know''. This was his response to my question about what kind of reports he wanted. There was so little information about the dock activity that he didn't know where to start. We therefore started with knowing how many loads were arriving, how they were loaded, number of line numbers, etc. contributing to managing capacity and labor planning. Obtaining the right data regarding load capacity, turnaround times, and so forth is essential to better decision making. They now had the appropriate information to level the loads throughout the shift, contribute to a better labor plan and monitor other KPIs.
Optimization of supply chain operations
Supply chain operations are composed of different business segments, typically suppliers, customers and transportation. Optimization I'll interpret as meaning to be the art of breaking down the silos between these segments (i.e., communication is often difficult in the supply chain). The best way to optimize the supply chain is by implementing collaborative and automated systems and hopefully leverage data integration between information systems and mobile technology.
In the world of scheduling, our clients' supply chain partners love obtaining visibility on the dock activities. Our clients enable the external portal through which supply chain partners can not only book, amend and cancel their appointments, they can see the state of their appointment, on-time performance and start-to-finish load times. It's definitely a step towards breaking down some of the friction caused by inefficient tools (e.g., phone calls, emails and… and yes some people are still faxing!).
WARNING!
For operators who believe that simply implementing a software solution will solve their process issues without having to think them through, beware! We always recommend to clients that they document their business process and provide us with what they believe to be their ideal processes - before implementing the dock scheduling system. It sounds a bit like recommending to clients that they should use Lean techniques before putting our dock scheduling system in place. I suspect Mr. Myerson would agree.