5 Reasons Why Mobile Devices Empower Yard Management Systems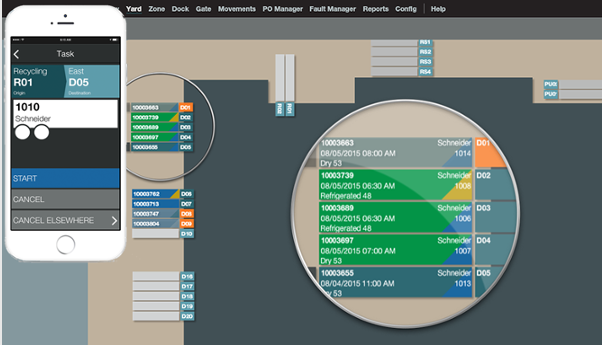 Supply chain software system providers were slow to adopt mobile devices in comparison to the consumer markets. Obviously, supply chain systems don't get replenished like consumer items but great strides have been made to make mobile technology available across all the supply chain platforms.
In the world of yard management, traditional licensed software offered client modules for yard drivers bundled in toughbooks running older Windows OS. Can the mobile devices used in the consumer market stand up to the harsh environment of a yard? Can a new generation YMS provide apps that offer additional features than the first generation?
Thus we wanted to share with you five reasons why mobile devices enhance the new generation YMS.
No need to install a Wi-Fi network in the yard
There has been a shift in recent years from traditional Wi-Fi networks to cellular networks as all types of mobile devices offer a SIM card option. Other than some rare exceptions, no site today would consider installing an expensive Wi-Fi network, especially those with remote lots. Cellular coverage is rarely an issue nowadays, eliminating the costs associated with an external Wi-Fi network.
Consumer devices are a quarter to a third the price of traditional devices
Whether you were using Zebra (formerly Motorola), Honeywell (formerly Intermec), or other competing brands, the price of using consumer iOS and Android mobile tablets and smartphones is approximately one quarter to one third the price. Do they last? In our recent experience, the answer would be yes. The prevalence of ruggedized cases (e.g., Otterbox) and well designed clamp mounts for vehicles certainly helps preserve the life of the units. The consumer products have extended warranty options and are easily replaced when necessary, without needing to keep spare units in stock.
Mobile Devices can be multi-functional
Traditional devices in the cab where strictly used for receiving and executing tasks in the yard. The new apps are simply…well, apps! All the features of the tablet and smartphone devices are available! Alright, you probably don't want the drivers to text or check emails. However, it can certainly be useful for them to take a picture of a specific situation and be able to call colleagues over the cell line instead of using radio with all the static noise that comes with it. Explore the possibilities, you might discover uses you had not thought of before (e.g., knowing where the drivers are in real-time due to geopositioning features built-in to the device).
Yard marshals need to be mobile
It is quite common for sites to have yard marshals walking around; greeting and directing outside carriers. The ideal tool for them are lightweight smartphones and tablets with real-time visibility on appointment data, dock congestion and drop zone availability. In addition, the multi-functional apps of their devices will eliminate the need for any other tool to carry around.
Drivers can use their smartphones as backup devices to the incab tablets
Let's face it, most drivers already have smartphones. By having the yard jockey app installed on their smartphones as a backup device, if anything happens to the incab tablet that is clamp mounted, they can quickly utilize their smartphones to continue their tasks without wasting valuable time. Easy, quick and inexpensive.
In conclusion, we wish to remind readers that the essence of a yard management system hasn't changed. It remains a platform that manages the gate, dock and yard processes in real-time based on your business' priorities. The efficiencies and overall visibility is simply enhanced, at a lesser cost than before, due to mobile devices. Another win-win in the world of logistics and supply chain.