Omnichannel Grocery: What is the Current Climate?

Grocery shopping is the new frontier in e-commerce. When Amazon bought Whole Foods in June 2017, grocery retailers took notice, and the race to omnichannel grocery fulfillment was on. As more and more people look to online ordering to meet their grocery needs, a number of factors are creating a serious competitive challenge for grocery retailers.
First, food is trendy, and home cooking has become both recreation and a status symbol for many. And with more options for online grocery shopping available, consumers are becoming extremely selective about the quality of products and timeliness of delivery. That adds pressure on the assortment of products offered and the speed at which new items are introduced. Second, the overall trend towards e-commerce has spread to grocery retail, making it a necessity to be in the game. Third, last-mile delivery options are expanding, but also the click-and-collect option has proved viable, opening up new channels for order fulfillment.
Grocers need to be at the top of their game to compete in online sales, and for many, it requires a big shift in the way they do business. Traditional grocery involves a single point of contact with the customer – in the store. Now grocers are being challenged to offer online ordering, in-store pick-up, and home delivery, as well as the retail baseline of an efficient, clean, well-stocked and appealing in-person shopping environment.

The shape and size of the challenge
Online grocery has experienced a huge growth spurt in the past year. Here's a snapshot of the trend, from various research reports:
The number of people buying groceries online doubled from 2017 to 2018, with 49 percent of U.S. consumers buying consumer packaged goods (CPG) online. In 2016 only 23 percent reported having done so [1]

More than 20 percent of consumers already buy groceries online every month [2]

Shoppers buying at online-only food stores increased from 16 percent in 2015 to 28 percent in 2018 [3]

Millennials (age 18-38) drive the trend, with more than 40 percent doing their grocery shopping online. However, close to 30 percent of Gen-Xers (39-52 years old) also shop online, while less than 15 percent of Boomers (53-71) do, and those over 71 years old actually participate more than the Boomers, at about 15 percent [4]

Forecasts suggest that by 2022 up to 70 percent of U.S. shoppers might be shopping online for groceries [5]
These consumers expect a seamless integration between the brick-and-mortar and online grocery shopping experience, treating the two as one entity. The challenge for grocers is to bridge the gap and deliver what grocery buyers want.

Retailers' reaction
These expectations, the volume, and constant growth are adding complexity to the business model, and creating the need for more sophisticated supply chain management. With the traditional bricks-and-mortar retail model, grocers simply move product from a distribution center to the stores. The biggest challenge in designing a successful business model with omnichannel grocery retailing is the high cost and complexity of fulfillment. [6]

Here's where the costs and complexity layer onto the existing supply chain:
The need for greater speed to fulfillment
Providing additional fulfillment modes
The requirements for increased visibility
Revisiting the network design and/or distribution model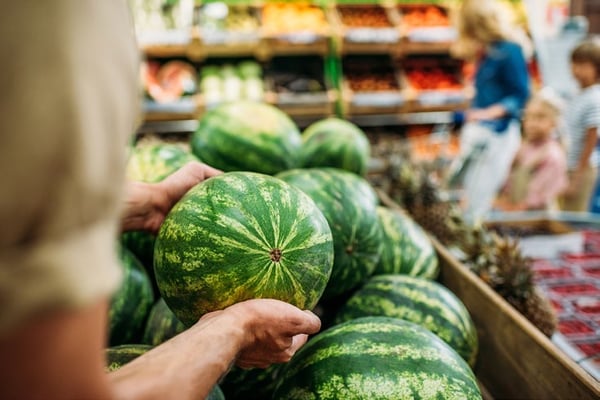 These new challenges require innovative strategies and adaptation across the supply chain that retailers are struggling with. They know that they need to make changes to stay in the game, with recent research showing that 39 percent believe legacy systems are holding them back. [7]
It's a difficult process to map your whole operation with the aim of deciding how to do omnichannel fulfillment. Let's look at a couple of the big choices retailers need to make when building an omnichannel operation.
Fulfillment options
To fulfill customer online orders, grocers need to be able to pick individual items. A traditional distribution center is not set up for item picking, instead usually shipping case lots and handling pallets of goods that are shipped in trailers to retail stores. For omnichannel operations, inventory needs to be selected on an item basis and sorted into small shipping containers that will be delivered directly to the customer whether by local delivery or parcel post. That's the operational difference between distribution centers and fulfillment centers. [8]

In grocery omnichannel, many retailers use their stores as the fulfillment center (FC). This strategy makes sense because the full assortment of product is readily available to be picked. Staff can move up and down the aisles as they would inside a regular fulfillment center, picking items into a basket, which can then be delivered or picked up by the customer. Doing fulfillment this way means no investment in logistics technology is required, and the buildings are already there, so no new infrastructure is required.
However, choosing this route can be slower than in a purpose-built facility – shoppers can get in the way, space limits the volume that can be fulfilled, and there is no way to predict if an item will be on the shelf since in-store customers are picking from the same stock. This uncertainty requires keeping higher safety stocks and increases the cost of demand planning. It also forces the retailer to create a decision tree to determine which stores will fulfill orders depending on geographic regions and the types of items in the basket. [9]
The alternative is to go the fulfillment center way. While the upfront costs may be higher, the advantages are better: FCs provide more integrated inventory control; more accurate, streamlined and faster-picking processes; and typically a single shipping method – instead of having orders picked up or shipped out, the FC only ships orders out for last-mile delivery. Using a fulfillment center also allows for a greater product assortment than in-store fulfillment. [10]
Many retailers are opting for this solution. In fact, Sam's Club (Walmart's club store subsidiary) is scrambling to turn some of the 63 stores it closed in 2017 into FCs. Kroger is planning to open 24 facilities to fulfill online orders. And, although it's not grocery specific, Amazon operates more than 300 fulfillment centers, with more opening all the time. [11]
Of course, grocers can also opt for a true omnichannel warehouse, which serves all types of orders from one location. These facilities combine store deliveries, order fulfillment and can integrate the returns process as well.
REFERENCES:
[1] "Online grocery set to boom in 2018", Deborah Weinswig, Forbes, March 1, 2018.
[2] "The grocery store of tomorrow", Amy Wunderlin, Food Logistics, July 16, 2018.
[3] "E-commerce impacts the grocery shopping experience", Food Marketing Institute, 2018.
[4] "E-commerce impacts the grocery shopping experience", Food Marketing Institute, 2018.
[5] "Online grocery set to boom in 2018", Deborah Weinswig, Forbes, March 1, 2018.
[6] Last mile fulfillment and distribution in omni-channel grocery retailing: A strategic planning framework, Alexander Hübner, Heinrich Kuhn and Johannes Wollenburg, Catholic University Eichstätt-Ingolstadt, November 2014.
[7] The current and future state of the omnichannel supply chain, Veridian.
[8] "Omnichannel multiplies the challenges for distribution-centric supply chains", Paul Myerson, Industry Week, June 1, 2018. "
[9] Last mile fulfillment and distribution in omni-channel grocery retailing: A strategic planning framework, Alexander Hübner, Heinrich Kuhn and Johannes Wollenburg, Catholic University Eichstätt-Ingolstadt, November 2014.
[10] "What is an omnichannel warehouse", Jason Rosing, Cerasis, September 28, 2018.
[11] "Brick-and-mortar retailers rush to open more fulfillment centers as they strive to keep pace in a changing landscape", Rob Smith, CoStar, July 13, 2018.