Knowing What You Need: Yard Management Software or WMS Yard Module?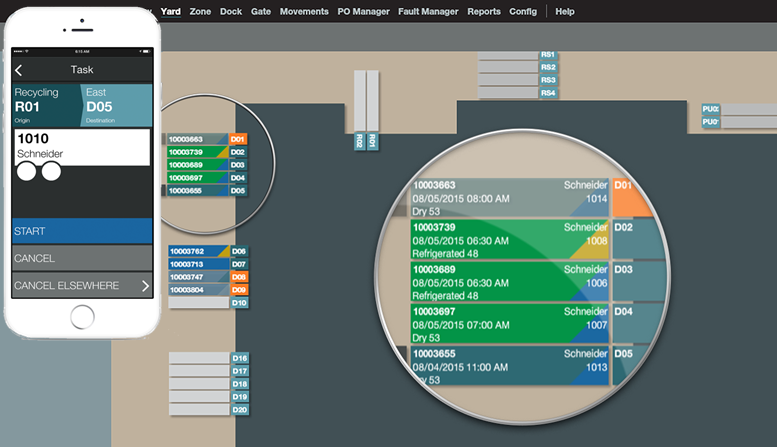 There are numerous warehouse management systems (WMS) that offer "Yard Modules" as application extensions to manage yard operations. For some companies, a WMS Yard Module may be sufficient to manage their yard operation, but for others, the benefits of a best-of-breed Yard Management Software application are critical to the success of their logistics operations.
Perhaps the best way to explain the differences between a WMS "Yard Module" and a "best-of-breed" Yard Management Software is to use the following analogy based on the WMS market.
In the WMS market, there are inventory control applications that keep track of where operators have stored inventory in the past so that inventory can quickly be located when it is needed. These basic applications do not necessarily optimize the work being performed, rather they identify what has already taken place in the past as a means to controlling inventory. This is a very different scenario than a best-of-breed WMS that enables the optimization of personnel, equipment, and order picking/packing processes, to support world class operations at the highest levels of efficiency.
WMS "Yard Modules"
This same principal applies to the Yard Management Software market. A "Yard Module" (a WMS application extension) typically tells you where to find trailers in the yard based on where they have been placed in the past. This allows the yard driver to move trailers to dock doors without having to manually search for the trailer in the yard. This is the equivalent of an inventory control system in that the software tells you where the trailer was placed without any real intelligence aimed at optimizing resources or assets.
WMS "Yard Modules" typically manage the yard operation as an extension of the warehouse operation. As such, it is worth noting that WMS software applications are principally designed to:
Track and control the movement of inventory being stored and handled within different types of fixed and mobile equipment environments.
Optimize the storage capacity utilization of the distribution center.
Manage labor resources that are tasked to store and retrieve inventory.
Manage the execution of inbound and outbound orders.
Optimize tasks assignment to direct labor associates responsible for picking/packing orders, moving inventory, etc.
"Best-of-Breed" Yard Management Software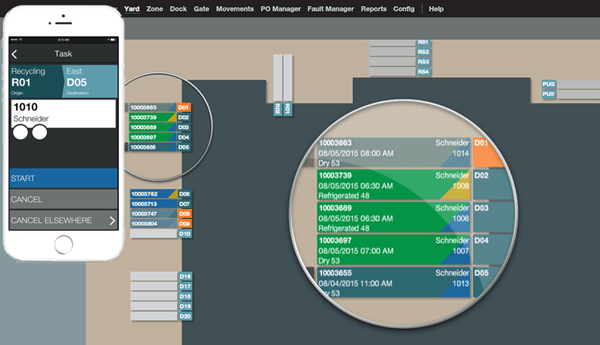 With a "best-of-breed" Yard Management Software, the application is specifically oriented towards optimizing the use of labor resources and the movement of trailers within the yard. Since the characteristics of each logistics site are different, the priority on how trailers are managed within the yard needs to be managed differently for each site. A best-of-breed YMS enables a firm to specify the exact priorities of how tasks are assigned to yard drivers based on site-specific operational requirements. For example, the emphasis for one site may be on maximizing yard driver labor efficiency, while another site may need to maximize inventory fill rates. The key point is that the "best-of-breed YMS" provides a much more robust and flexible toolkit to managing the overall logistics operation.
It is important to understand that YMS applications are designed around a fundamentally different set of operational requirements than WMS applications. YMS applications are principally designed to:
Track, control and optimize the movement of trucking assets within one or more yards associated to a campus or site; including yard driver vehicles, trailers, containers, and trailer chassis.

Optimize the use of driver labor resources that are tasked to move equipment within the yard/ campus by minimizing task time duration and/or distance travelled.

Manage the use of receiving and shipping dock doors and parking locations.
Manage the scheduling and receiving of inbound loads based on configurable priorities.
Adjust priorities continuously throughout the work day in response to pressures resulting from peaks and valleys in receiving and shipping volumes.
Manage communications between a centralized control center and all yard driver labor resources thereby eliminating the use of less reliable radio-based or paper-based communication processes.
Leverage GPS mapping technology to manage the movement of all trucking assets incoming to the site or within the site, particularly in large un-marked parking areas.
Forecast vehicle availability to ensure no equipment shortages are on the horizon.
Provide advanced key performance indicators (KPIs) that provide managers with intelligent information designed to continuously improve the quality, efficiency and accuracy of their overall logistics operations.
Most importantly, best-of-breed YMS applications enable the establishment of user-defined rules to manage how the work is executed. Some examples follow:
A trailer staged in the yard may have high priority inventory with seasonal SKUs that are on back order or that are related to a forthcoming event. The purchasing department requires SKU-level visibility for inventory being held in the yard so that buyers can reprioritize the receipt of this inventory to maximize outbound order fill rates.

There may be accessorial charges incurred on third party trailers being held in the yard. These costs may come in the form of detention/demurrage charges, redelivery fees, and non-usage fees. The need to minimize accessorial charges may be a firm's top priority by ensuring that the oldest trailers are prioritized for receiving first. This requires real time visibility and status monitoring of trailer dwell time, accessorial charge tracking, email alerts, and carrier notification as soon as trailers are made available.

There may be a need to maximize labor efficiency of the drivers responsible for shunting trailers in the yard, especially if the operation is contained within a large campus environment whereby trailers are being transferred between multiple buildings. In this situation, the priority may be having the YMS constantly analyse the pool of work to assign drivers the most optimal tasks.
In summary, there are significant differences between the benefits of deploying a system-directed "best-of-breed" Yard Management System versus a more basic "Yard Module" extension of a WMS. It is important to understand the differences between these solutions in order to make the appropriate choice for your business.