Connecting your Yard Management and Dock Scheduling needs on a single platform!

A tailored solution for your unique operational needs

Hundreds of sites around the world are already using C3 Solutions' Yard Management and Dock Scheduling solutions. Since 2000, we've developed an expertise in helping organizations with their yard and dock management challenges in 5 key markets, and our consultants understand the ins and outs of these industries and their competitive environments.

Transport and Logistics

Grocery

Manufacturing

Parcel Posts

Retailing
ROI
What to expect
90% reduction in phone calls /emails / faxes
50% reduction in time spent scheduling
Overtime labor savings
Chargeback processing and
compliance reporting
25% Reduction in yard trucks
30% Increase in dock productivity
90% Reduction in detention fees
25% Increase in driver productivity 15% Reduction in fleet trailers ROI in less than 12 months
Cloud-based — Working for you 24/7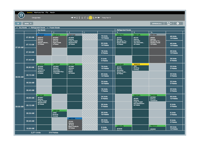 Dock Scheduling
A highly customizable and automated dock scheduling system.
Synchronizing appointment requests with dock capacity
Applying customized constraints and rules
Automating communications to all parties involved
Measuring the performance of your business and partners
Controlling the flow so you're never short of what you need most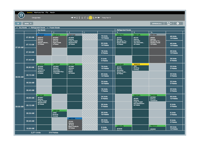 Yard Management
A solution that will optimize and automate your yard activity.
Providing visibility on both yard assets and shipments
Increasing gate throughput
Improving the productivity of yard drivers and dock workers
Reducing dock congestion and optimizing door utilization
Reducing detention costs